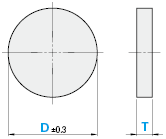 Circumference Chamfering C0.3 ~ 1.0
•T Dimension Tolerance: ±0.3
FGLMS
Round
Fused Transparent Quartz Glass
1,000 C°
1,200 C°
[ ! ]Heat resistant temperature will be largely varied depending on the operating condition. Values are not guaranteed.
[ ! ]It cannot be used in Class 1 or Class 2 pressure containers, or specified facilities for high-pressure gas.
[ ! ]Properties of Material>> P.981
Specifications
■Round
FGLMS
(Round Type)
1
20~150
2
20~300
3
20~300
5
20~300