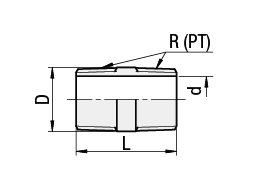 SGPNP
SGP
Hot Zinc Plating
SUTNP
SUS304
-
Specifications
Part Number
-
L
SGPPT8A
SGPNPR8A

-

75

Part Number
Volume Discount
Days to Ship
RoHS
Connecting Shape
Material
Nominal of Thread Rc (PT) or T or T1 or Q or Q1
Surface Treatment
Available
Same day


Stock

10
[Nipple] Round Nipple
[Stainless Steel] SUS304
1/8B(6A)
No
Loading...
More Information

Operating Conditions of Joints
Steam, Air, Gas, Oil: Up to 300°C
1.0 (10.2)
Steam, Air, Oil, Pulsating Water: Up to 200°C
1.4 (14.3)
Static Flow Water: Up to 120°C
2.0 (20.4)
*Pulsating water is a stream of water that is generated under steady operating conditions and variation of pressure and flow rate occurs in cycles.
(Except for transitional change)
*Static Flow Water is a non-pulsating stream of water.
Basic Information
Please check the type/dimensions/specifications of the part SUTNP6A in the Low Pressure Fittings/Nipple series.